By StillFire Brewing Co-Founder, Randall Veugeler
One of the things that frustrates me about the craft beer industry is the new trend of designing can labels with a uniform, sterile  "IKEA" look. In lieu of unique, exciting artwork, breweries have been opting to create a plain white can with boring type and only changing out accent colors to differentiate their different beers. Everything looks the same. The craft beer consumer is adventurous. They crave what's new and different. That's the reason people gravitate towards craft beers in the first place. I wanted to keep this in mind when designing the StillFire Brewing label options, and made a promise to the team that every can I created would be as interesting and creative as the beer that is inside of it.
My background is in advertising so I knew that uniqueness and differentiation would be key in making the StillFire Brewing brand stand out in the now-saturated craft beer industry. I also knew that a lot of successful companies create characters or mascots to help their business become more memorable. I wanted to create a character for StillFire that was interesting, relatable to the great state of Georgia, and had some personal connection with myself and beer. I thought back to when I started as a homebrewer. My roommate and I had just brewed a batch of beer and decided to throw out all of the food in our fridge in order to fit 72 bombers of fresh-brewed beer…because priorities right? The next day when I came home from work, I saw that five giant raccoons had ripped their way into my screened-in porch in an effort to scratch their way into my kitchen. My roommate and I joked that our beer was so good, even the raccoons were after it.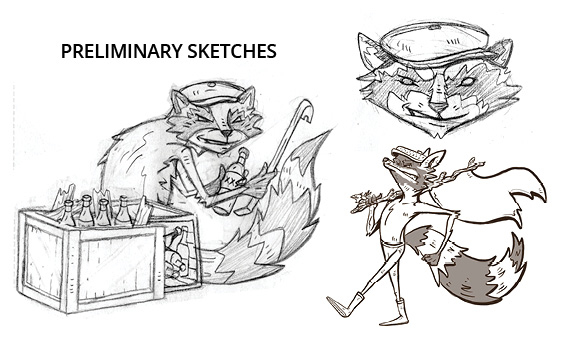 That image of the raccoons crazy for beer resonated with me, and I thought it was a great place to start when developing the character for StillFire Brewing. I reached out to Caleb Morris, an amazing local illustrator who has worked with national brands like Reebok, Mellow Yellow and Gatorade, and together we started developing the idea of a raccoon bandit set in prohibition times. We imagined a raccoon "Robin Hood" who set his sights on stealing beer from Georgia bootleggers. When we personified the raccoon and put him on a motorcycle, we knew we were on to something. The story evolved over the course of two years and we landed on our character, named Bandit, who sets out to experience adventures across Georgia. Throughout our unique can designs, you can spot Bandit interacting with Bigfoot (who has a museum dedicated to him in North Georgia), boating on Lake Lanier, and even shredding some waves down in Georgia's barrier islands. The designs have only managed to get crazier as we've progressed, with the lastest having a two-headed Bandit attacking downtown Atlanta Godzilla-style.
At StillFire Brewing we want to stay ahead of the trends and embrace the courageous side of the craft beer consumer with our beer and our can labels. Every can for us is a blank canvas ready to tell a story. Visit our social media pages for an exclusive first look as we reveal new cans each week leading up to our grand opening.