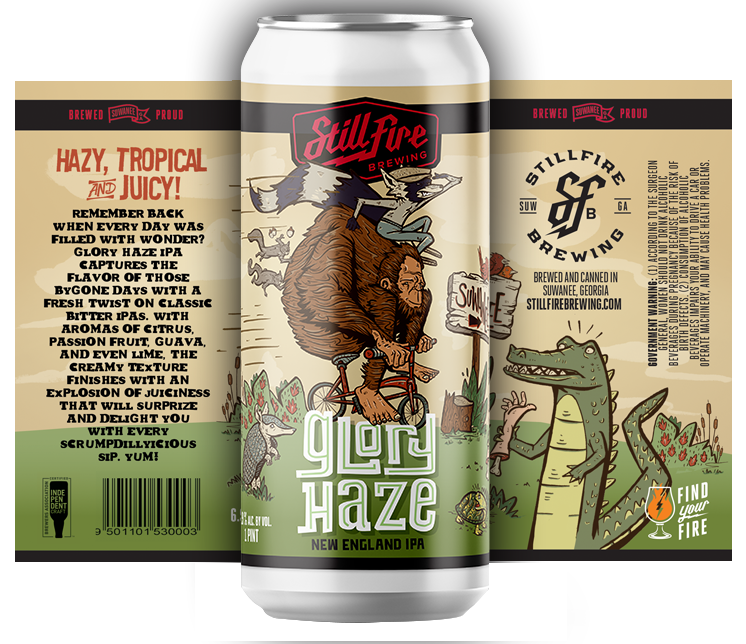 ---
Everything you like about The Haze Craze in one glass. A huge aroma of citrus, passion fruit, guava, orange and even lime carry over into an explosion of juicy deliciousness. The aromas and flavors overlay a delicious malt base amplified by the creamy and silky texture that only an addition of oats can deliver. This is still an evolving style, and unlike more traditional IPAs, the bitterness is intentionally subdued and smooth, rather than firm or even biting. If classic IPAs have let you down, this new twist will surprise and delight you.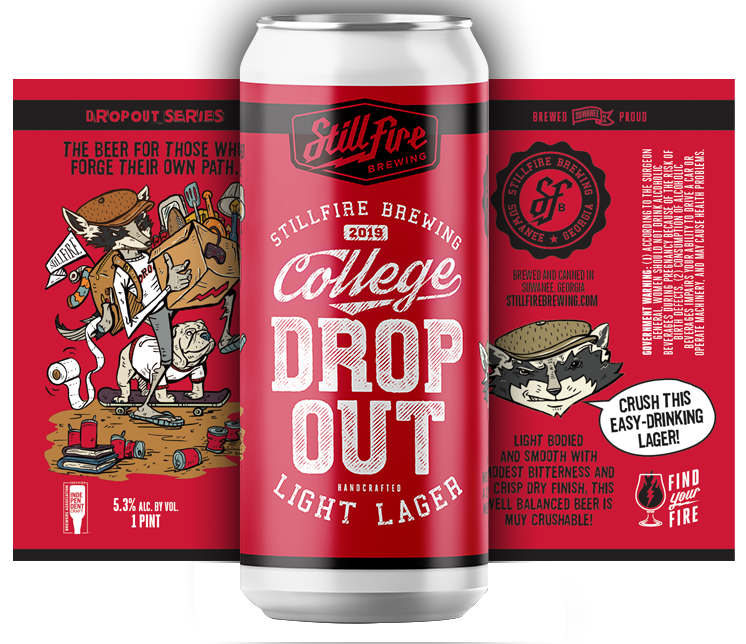 College DropOut Lager
Lager
---
---
This Stillfire beer is our take on THE classic tasty cold beer. Like many of our creations, we were influenced by classic American as well as German Brewmeister's, borrowing ingredients and techniques from both countries. Perfect for when it is hot out, this beer is clean, crisp, and refreshing without relying on anything other than all-natural ingredients. This straight-forward ode to the local breweries that used to be in every city has just the right balance of malt and hops to quench your thirst while still being interesting and unique.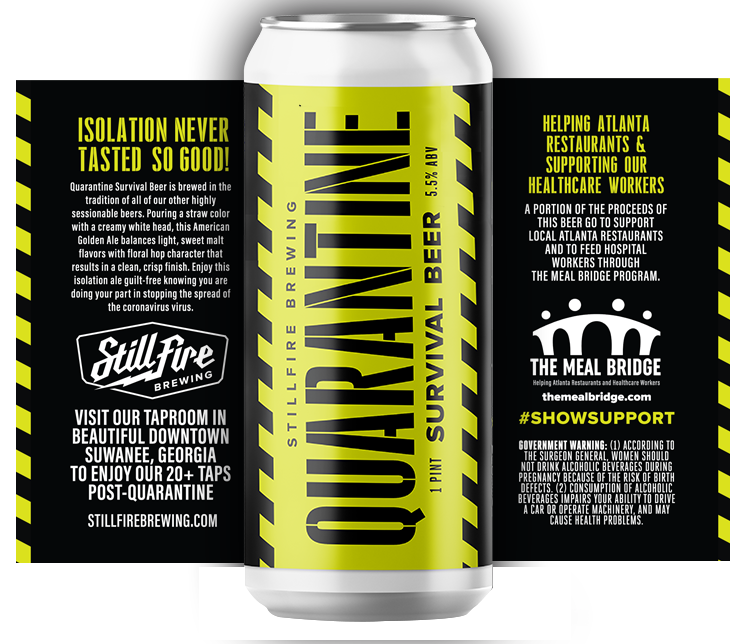 Quarantine Survival Beer
GOLDEN ALE
---
---
Quarantine Survival Beer is brewed in the tradition of all of StillFire Brewing's other highly sessionable beers. Pouring a straw color with a creamy white head, this American Golden Ale balances light, sweet malt flavors with floral hop character that results in a clean, crisp finish. Enjoy this isolation ale guilt-free knowing you are doing your part in stopping the spread of the coronavirus virus.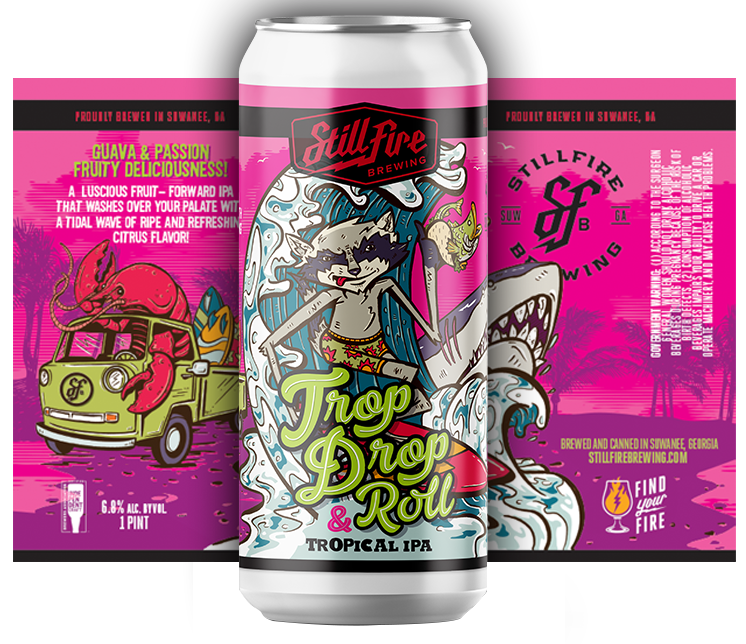 Trop Drop & Roll
West Coast IPA
---
---
Trop Drop and Roll is our creation to feature some of the newer tropical hop varieties that have been popping up the past 5 years. TD&R leans on a wide variety of Citrus flavors and aromas, mixing in with a complex array of exotic Guava, melon and Passion Fruit notes. The malt is delicate and only shows up in a supporting role. This is a contemporary interpretation of IPA, where the fruitiness is very apparent, yet controlled. The finish avoids bitterness yet does a great job of cleansing the palate and preparing you for the next sip. Like everything in this beer, subtlety is the key while complexity is the goal.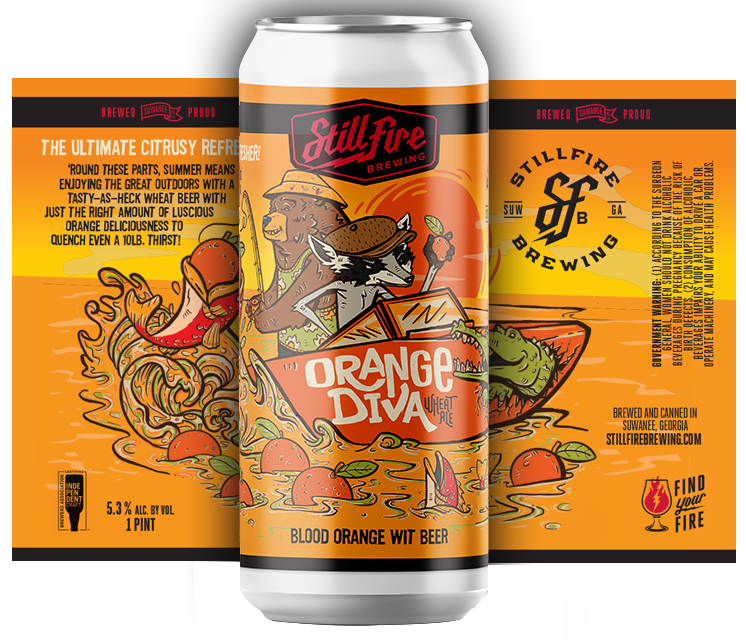 Orange Diva
Blood Orange Wit
---
---
A delicious twist on a classic Belgian treat. The Witbier was something that had been forgotten for over a decade until Pierre Celis revived it in a small village east of Brussels, Belgium. This beer is a nod to the classic, starting with the original revival base of white wheat, Pilsner malt and oats. Curacao orange peel and coriander are lightly added for complexity, and a Belgian yeast completes the profile for a fragrant, delicate, refreshing summer beer. Our twist is the addition of Blood Orange in just the right amount to amplify and add to the delicious orange character in a very pleasant way. No garnish required.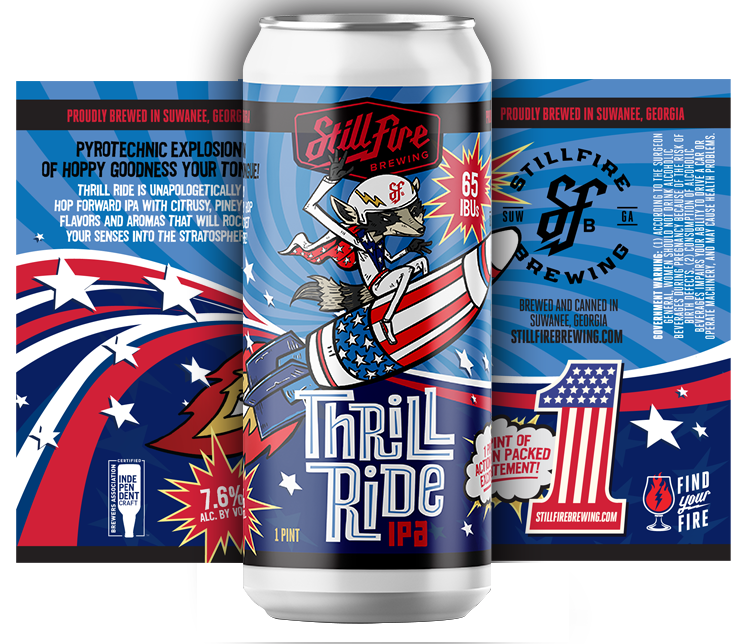 Thrill Ride IPA
West Coast IPA
---
---
Thrill Ride is a classic West Coast style American IPA that spread across the country 10 years ago. The hop aroma is bursting with pine and grapefruit character that carries over to the flavor. Every sip rewards you with a firm but smooth bitterness that allows the flavors to linger get cleanses your palate to ready you for the next sip. The malt is intentionally light with a touch of golden biscuit character to deliver the hops you crave. Dry and light on the palate for its strength, this is a great beer to sit down and get serious with.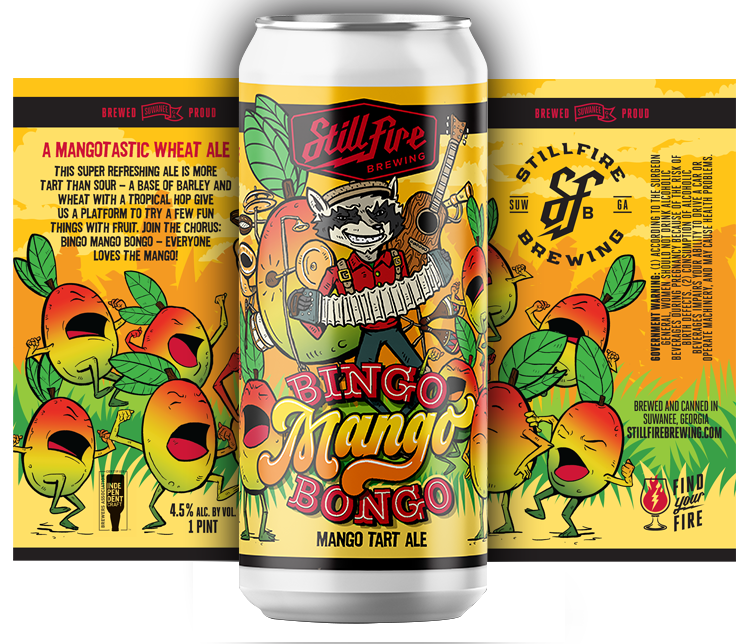 Bingo Mango Bongo
Mango Tart Ale
---
---
Borrowing on our different versions of Gose, this ale is more tart than sour. A base of barley and wheat with a tropical hop give us a platform to try a few fun things with fruit. We don't call it Gose because we don't add any spice or salt, however the fruit is the star of this beer. Just as many fruit juices are tart, this series of beers emphasizes the fruit and the tartness enhances the drinking experience. Fruity yet refreshing, we hope you will join the chorus: Everyone loves the Mango!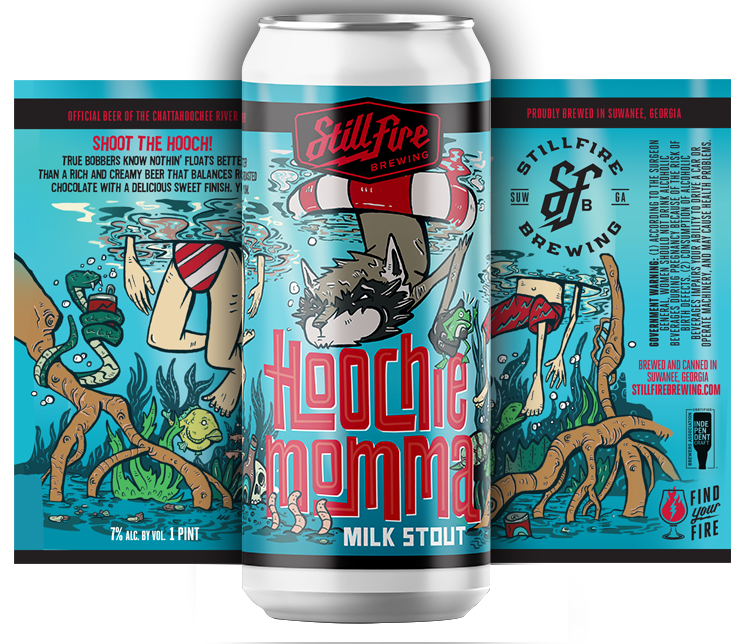 ---
Hootchie is a bold and rich interpretation of stout. Clocking in at 7%, the base features numerous malts to provide a complex blend of creamy chocolate, toffee, coffee, biscuit, and bread crusts. A small amount of milk sugar smooths the finish and provides a pleasant mild sweetness to balance the roasted character. Not unlike an espresso with cream to cut the roast, Hootchie Mama could easily become your go to stout.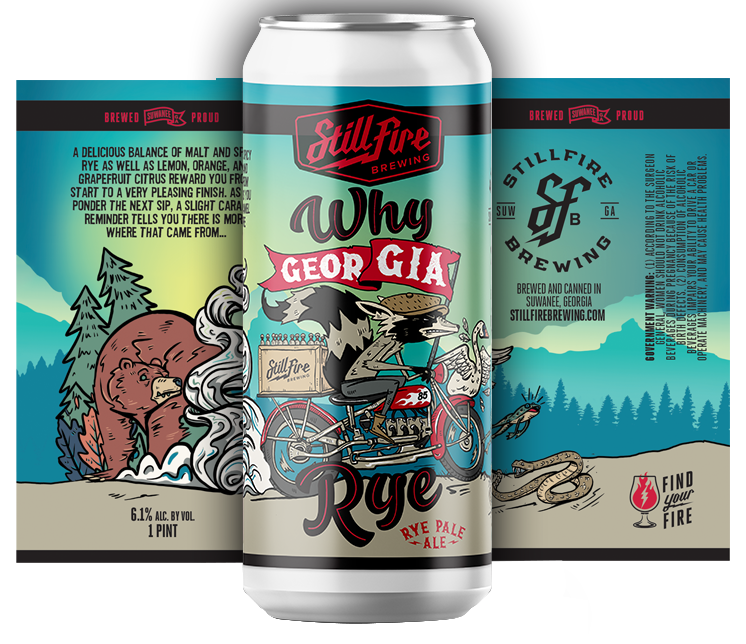 WHY GEORGIA RYE
RYE PALE ALE
---
---
Pale ale with a balance if malt, spicy rye and lemon, orange and grapefruit citris flavors.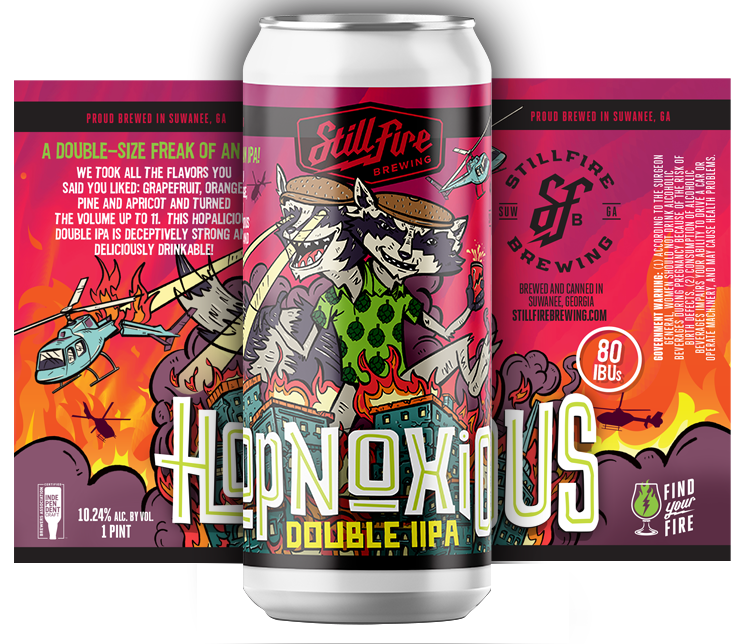 Hopnoxious IIPA
Double IPA
---
---
A double-size freak of an IPA! We took all the flavors you said you liked: grapefruit, orange, pine and apricot and turned the volume up to 11. This hopalicious double IPA is deceptively strong and deliciously drinkable!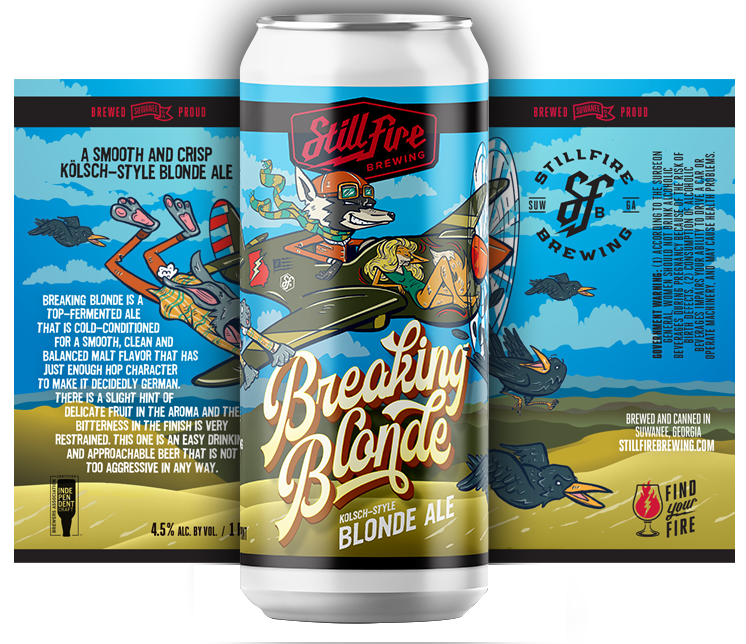 Breaking Blonde
Blonde Ale
---
---
A wave of German brewers arrived in the Americas in the 1800s. They began brewing beer with local ingredients creating easy to drink golden beverages that were quaffable all night long. Our Golden Ale uses both New and Old World grains and hops to produce a nuanced drinking experience with light maltiness, a touch of fruitiness, a hint of flowery hops and just a whisper of corn sweetness. This smooth, clean and balanced malt flavor that has just enough hop character to make it your new go-to beer. This one is an easy drinking and approachable beer that is not too aggressive in any way.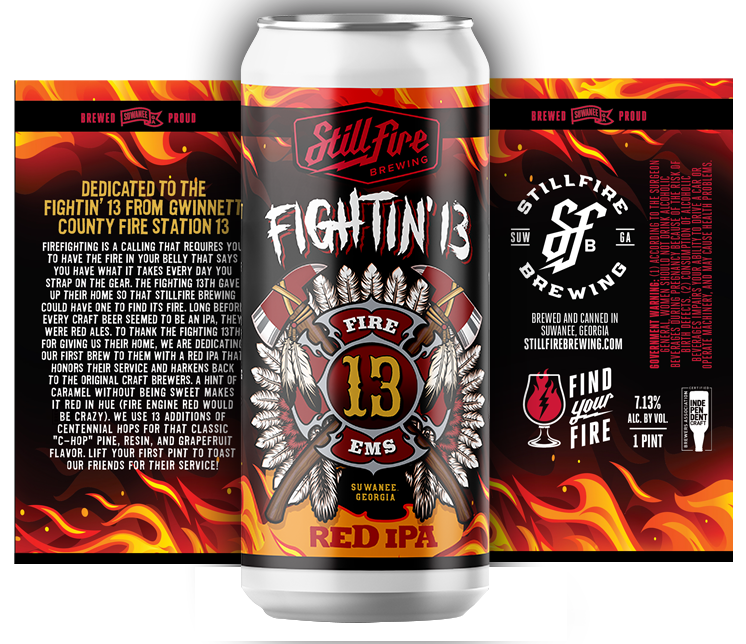 ---
Since the dawn of time, the survival instinct coded into our DNA compels us to run from fire. In contrast, firefighters run towards a fire to save people they may not even know. Firefighting is a calling that requires you to have the fire in your belly that says you have what it takes every day you strap on the gear. Our brewery was once housed Gwinnett County Fire Station 13, better known as "The Fighting 13th". In honor of them and their contributions to our community, the first beer ever brewed in our new home was a Red IPA named for them. Toasted and caramel malts give the beer a hearty and maltier character without ever being sweet. Thirteen additions of Centennial hops throughout the boil and during fermentation lead to a huge grapefruit nose with pine resin and spice complementing it. The flavors are equally bold and compliment the aroma perfectly. A firm yet smooth finish prepares you to go back in until you are staring at the bottom of an empty pint. Make sure to say cheers to "The Fighting 13th" next time you have one!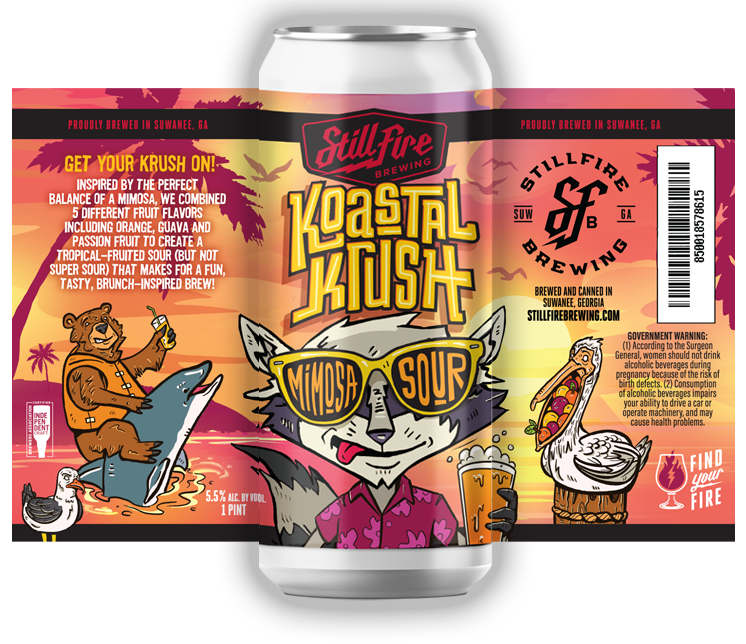 KOASTAL KRUSH
Mimosa Sour
---
---
American brewers and beer drinkers have embraced what is known as the kettle sour for a change of pace in their beer choices. Based on an obscure German beer style, Gose, our process utilizes a pure strain to produce a very clean yet tart beer that pairs very well with fruit additions. For Koastal Krush, we started with the goal of creating a classic cocktail in a glass, the Mimosa. There is a pleasing orange character but Koastal doesn't stop there. There are 3 other exotic fruits blended to produce a delicious tropical explosion in your glass. This is a very fruity beer without being sweet and it remains incredibly drinkable. If ever there was beer that can create a fan out of someone who previously avoided "sour beer", this is the one.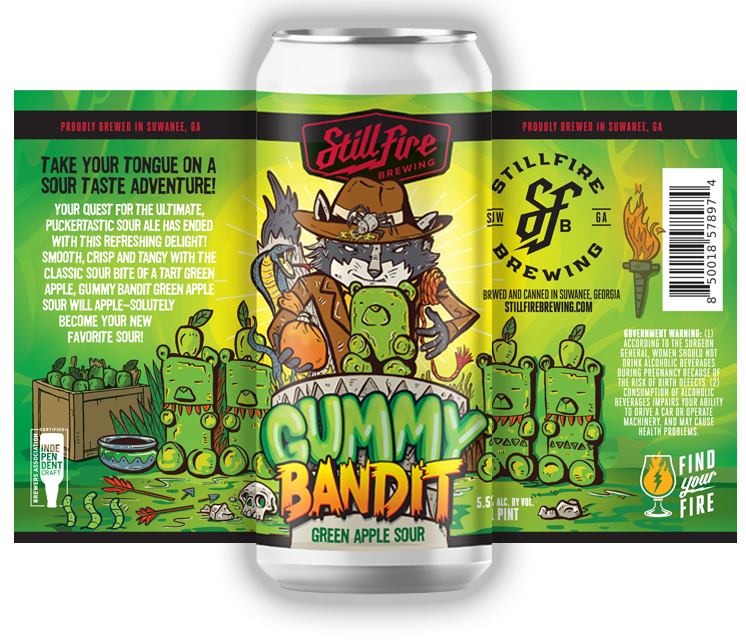 GUMMY BEAR GREEN APPLE SOUR
SOUR ALE
---
---
Your quest for the ultimate, puckertastic sour ale has ended with this refreshing delight! Smooth, crisp and tangy with the classic sour bite of a tart green apple, gummy bandit green apple sour will apple-solutely become your new favorite sour!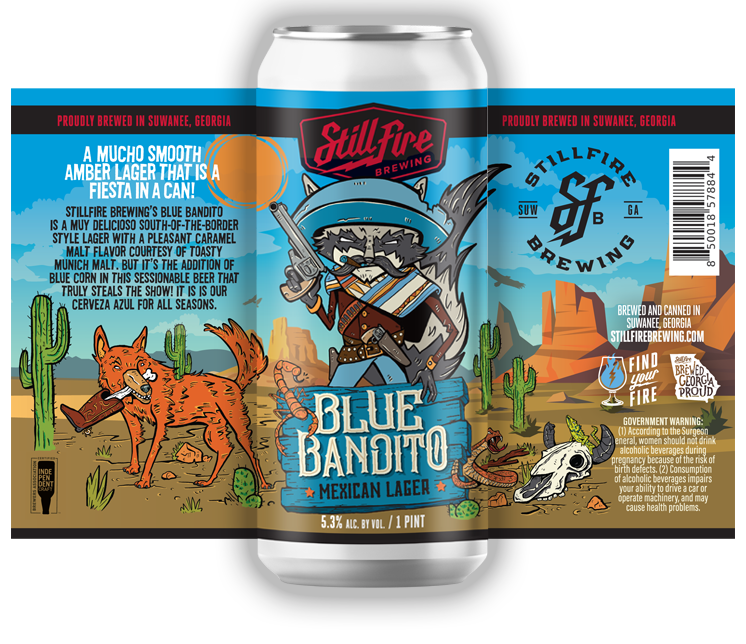 BLUE BANDITO
MEXICAN LAGER
---
---
There is a long history of European craftsmen moving to Mexico, including brewers who originally made amber lagers when they arrived. Rather than travel a well-worn path, the brewers of StillFire decided to make a smooth amber lager that features the toasty Munich malt flavor those pioneers treasured, but we added our own special ingredient: Blue Corn. That little touch is what makes this beer a unique summer treat, perfect on a hot summer day while hitting the snacks. Blue Bandito is our Cerveza Azul for all seasons!