Sometimes you just have to take a moment to stop and smell the hops.
This was one of those weeks where the sky was bluer, the birds were chirping louder and former obstacles simply vanished or were swept aside. I am sure you might wonder how someone who makes and drinks beer practically every day would ever have a worry in the world, but often we are so in the moment of planning, creating, and cleaning everything that doesn't move that we don't take a moment to reflect on all the things we have to be thankful for.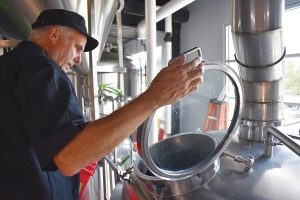 Just a few short months ago we were all blindsided by the quick and devastating turn of events that changed everyone's life. One day we at Stillfire had a vibrant taproom and were on the verge of our first venture into distributing our beers to greater Gwinnett County. The next day we had a closed taproom full of beer we couldn't sell to closed restaurants with only takeout sales to tide us over. That is the first thing and most important thing I am thankful for, our loyal customers. Our Founders as well as our regular and frequent customers displayed loyalty above and beyond anything I could have ever expected. Their faith in us after only a few months of operation kept our Fire going strong. Our thanks go out to each and every one of you who made a trip to a closed taproom and bought our beer during the shutdown.
Inspired by this loyalty during the shutdown, we kept pushing our imaginations to come up with even more classic brews (with extra emphasis on class) as well as remaking some of your old favorites. We even came up with a few offerings that push the envelope of what beer can be. You may have noticed the stack of barrels in the taproom and also in the brewhouse. We decided to use our time to lean into the slowdown by sourcing ASW whiskey barrels from Atlanta and brewing 2 beers for our Second Anniversary to age in them. Just to be clear, strong beers aged in freshly dumped whiskey barrels need a minimum of 12 months to fully take advantage of this treatment. We were also able to create, brew, and even can and distribute our first batch of Quarantine Survival Beer. We took a leap of faith and brewed several new Belgian beers, numerous IPAs, new sours, a complete line of seltzers, and even several new lagers. Once again, your faith in us inspired us to help you Find a New Fire to be excited about.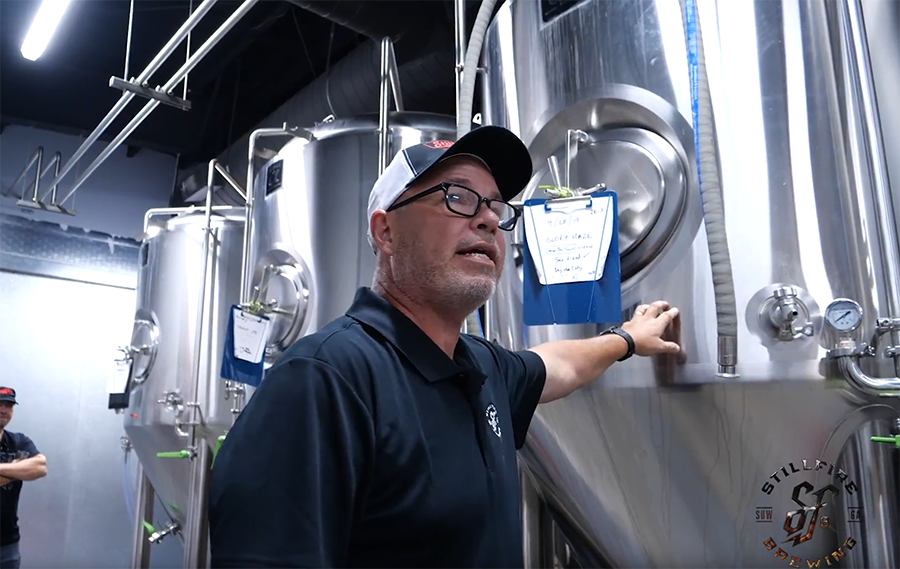 In the beginning, a few years ago, it was Walt and I planning the beers that we would eventually brew for our coming-out party at the Suwanee Beer Festival in 2019. When Walt and I met Geoff last year, we knew he had The Fire necessary to make us a better brewing team. Since then, he has been with us for all of our brewing at the firehouse. Part of my reflection is that we have been so busy (thanks to your support), that we will brew Batch #100 this week in less than one year's time. That is not a typo or an inflated number either. When we split a batch into several beer styles, we only count it as one batch. The same goes for a double batch of the same beer being only one batch on the Stillfire odometer. That is an average of one batch every third day of existence. [Insert Golf Clap here]. The current taproom line-up features two great examples of beer boundary-pushing. Walt has always been fascinated with Italian Grape Ale, so for the summer, we decided to brew a white grape version of his recipe. In the late fall, we will return to this style with a red grape variation of the recipe. In the "now for something completely different" theme that has come to define Stillfire, we married the flavors of strong ale, applejack cider, and barrel-aged whiskey to bring you our popular "You Don't Know Jack" strong apple ale. Life is all about choices, so your Stillfire brewers are all over that.
This month we were excited to announce the launch of our beers at Gwinnett Taco Mac locations. hosting tap takeovers at each location on Monday nights. At the Suwanee and Mall of Georgia TMs, I saw both familiar faces (since our taproom is closed on Mondays) and new fans. Everything we sent out was enthusiastically received. Once again the level of support we receive is greatly appreciated by the brewers, and it motivates us to strive for even higher heights.
When the act of brewing our very first batch was pushed off until the end of September last year, all plans of having a proper Oktoberfest bier were shelved until 2020. Since Stillfire brewers never bring it weak, we are planning to offer five different German-style beers over the course of the Bavarian Oktoberfest celebrated from September through October. We have already brewed Geoff's Hefeweizen as well as our first Maerzen Festbier and Doppelbock. These three beers are our interpretation of German classics. The two additional German beers are a little more obscure and more importantly, we are going to put our mark on them. We will offer a seasonal "special" or Sticke Altbier the Dusseldorf brewers are very proud of. There will be a twist that will make this beer extra special. The final beer will be a Bavarian Black Beer (Schwarzbier) with a spin that we think will make it very Stillfire as well as very memorable.
In closing, I wanted to mention another milestone. The beer you have been drinking this past year at Stillfire has been essentially created by the imaginations of Phil, Walt, and Geoff. On Monday, August 17th we welcomed Ryan to our creative team of brewers. I am confident that a fourth set of eyes, a strong back, and youthful enthusiasm are going to allow us to brew even more creative and innovative brews! Raise a pint to Ryan and welcome him to the family when you see him!
Prost!
Phil