I was only back from Providence for a few days when trucks started arriving. The cry "The Tank Fairy is here! The Tank Fairy is here!" was heard throughout Suwanee Town Center. I have been to a lot of breweries, many of them during ground-breaking and even expansion, but this is the first project I was directly involved with from start to finish. Building interior demo started in April and the new concrete floors with drains were poured in May. Utility work commenced, so did exterior work, and even a new roof was installed in June. The building has a floor and a roof, but many of the walls are still being finished. The main bar framing lumber is in place, but it is still only a skeleton as I write this. Thankfully, there is a large team of contractors and StillFire team members doing the work and supervising this huge project.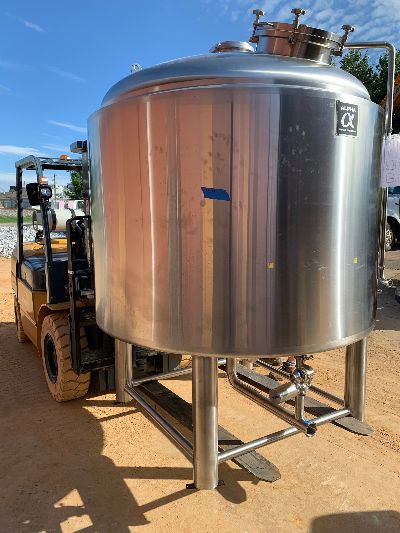 A brewery without tanks is like Disney World without the Mouse. Since the fermenters, bright beer tanks, serving tanks, and water storage tanks are simpler in construction as well as bulky, they were shipped first. Unloading required a choreographed ballet of forklifts, pallet jacks, and a hydraulic crane. There was no issue rolling the larger tanks into the building thanks to the legacy firehouse doors, however standing them up was another matter. We were not in the dire situations of some breweries that need to cut a hole in the roof to lower these monsters on a strap attached to a crane.  We did, however, need the leverage of a crane positioned in the brewery rafters to safely tilt the larger tanks upright. It is a good thing John, Mark, and Luke didn't need my expertise in the matter, or else I would be writing to you about our "StillFire Scratch and Dent Sale". Our new cement floor had already cured for the required time, however, it was too early to seal it. With lots of room still in the Tasting Room, the tanks were moved there so we could seal the brewery floor. Just like the temporary sign, there are 20 stainless steel cylindrical "billboards" where everyone driving by will see that the town has a new brewery. No, we aren't expanding into your new Tap Room. Let's just say we are double parking them overnight.
Once the concrete sealant has dried, the main and pilot brewhouses will arrive. They will be set in place this week as well as all the tanks and fermenters. That will take a week and then it will be another couple of weeks to get the utilities attached to their respective vessels. Everyone can associate electricity and water with cooking, but we as a brewery also need a steam boiler to heat our kettles and glycol to chill everything that needs to be cold or temperature controlled. The large things will take the rest of July as we get our Tap Room bar, draft system, fittings, and cold storage up and running. Hundreds of items, as well as ingredients, are slated to be delivered in August. The team from Alpha Brewing Solutions, the company that made our 20 barrel system, will arrive to do the final wiring and help us take the brewhouse around the block for a test drive. We don't plan on letting dust gather on any of our new brewing equipment. Brewing will commence as soon as the minimum equipment and utilities are in place. We want you to enjoy our beer as soon as we can, so expect us to be very busy in the brewery in August and September, right up until Opening Day.
Cheers!
Phil