COVID-19 PROTOCOLS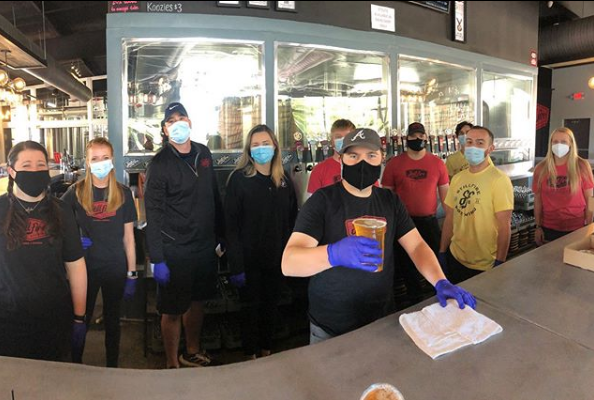 We have been overwhelmed by your continued support and have made the decision to re-open our taproom. We will be following all CDC guidelines and social distance regulations such as:
All employees will wear masks at all times and are required to sanitize their hands before handling a new drink, bussing a table, and before interacting with different parties.
Staff's temperatures will be checked before the start of each shift and employees will not be allowed to work if they have any signs of sickness (fever, cough, etc).
We will provide sanitizer for all of our customers and we will sanitize our tablets each time.
Bathrooms will be open with only 2 people allowed in the bathroom at a time. They will be sanitized regularly throughout the day.
Customers will be able to spread out between our patio, adjacent park, and our brew garden located in the parking lot.
Food Trucks will be taking their own necessary precautions to ensure the safety of their customers.
Indoor games will NOT be provided by StillFire to minimize contact between patrons.
We will keep our garage doors open as well as have fans set up to keep constant air flow entering the taproom.
We will be monitoring the capacity of both the patio and parking lot to ensure the recommended capacity is not exceeded.
This is not an exhaustive list, and we will be following all CDC and State recommendations. We greatly appreciate your continued support and can't wait to enjoy a beer with you very soon!