This is my first official blog entry as Brewmaster for StillFire Brewing. I thought I would write about my last big brewing trip, the Craft Brewer's Convention (CBC) that took place April 8th-11th, 2019 in Denver. The CBC is held in a different location each spring and is put on by the Brewer's Association. However, during odd numbered years (like 2019), the convention Is "just" the CBC, while the even numbered years feature the World Beer Cup (WBC), a commercial beer competition that immediately precedes it.  The judging of the WBC, with roughly 8000 entries from around the world, tends to take a little bit out of you. However, I was totally free from my judging responsibilities this year and with a brewery to window shop for, I was in Brewer's Heaven last month at the CBC.
Just like the Great American Beer Festival (GABF), the CBC took up the entire Denver International Convention Center.  The floor of the Convention Center held the Trade Show, and the smaller seminar rooms consisted of work groups, presentations, a keynote speaker, seminars (imagine that), and a hospitality suite.  This year's Keynote speaker was Iron Maiden Lead Singer Bruce Dickinson.  As a fellow brewer and pilot, it was great to hear him speak of his adventures.  The seminars have different points of emphasis or "tracks" depending on what exactly you do in your brewery.  In other words, most people at the CBC are not brewers.  Before the conference officially started, I attended a TTB and Safety Bootcamp to ensure that I would be thankful to be a brewer and not a plant manager.  There were seminars on marketing, finance, craft beer trends, social media, upcoming legislation, distribution, contracts, dispensing, scientific breakthroughs, and yes, brewing.  Having access to the recorded seminars after the fact, rather than pass out in my sample cup, I concentrated on brewing and brewery operations seminars.  Even then there were a few dry topics.  I learned about the optimal scientific ways measuring pH and of determining yeast health as well as cell density from the American Society of Brewing Chemists.  I even got a deal on an ASBC introductory membership.  There were discussion panels led by experts who are brewing Gose and the still popular New England style IPA as their flagship beers.  No CBC would be complete without a discussion of new hop varieties.  I could not pass up a discussion panel entitled "What I Wish I had Known When I Started My Brewery."  I met a lot of brewers with breweries in planning, as well as a couple that haven't gotten past a floor plan sketch.  Having lived and gone to school in Colorado, it didn't surprise me that there were two April snowstorms of over 6 inches that week after the Mercury hit 80 the day before.  That thankfully didn't put a damper on the event, or the post-convention gatherings.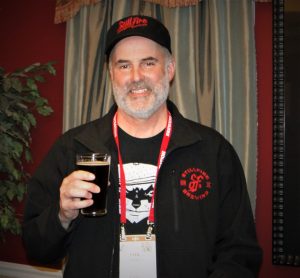 The Convention Center was where the majority of the action was.  The large equipment manufacturers spared no expense hauling in and setting up examples of their equipment.  Entire brewhouses, fermentation tanks, boilers, canning, and kegging lines were on full display in what I call the Brewers' Playground.  Even though we already ordered our brewing equipment, it felt good to climb 12 feet up a ladder to stand on a 100 Barrel brewing platform, if for no other reason than to see the convention floor better.  The hop brokers, maltsters, yeast labs, honey farmers, fruit growers, and even chemical suppliers had booths.  If you have a bottling line, you need to buy bottles and labels.  Every brewery needs hats and shirts.  I bet you didn't know they also "need" hiking gear, diving equipment and baby buggies.  Companies selling all those things were set up and ready to go. Even something as simple as spices, brewery signs, coasters or dog treats had a booth. I discovered a couple of new hop varieties and fruit purees I want to brew with. Beer clarity is so 2010, so the filtration companies were not getting nearly as much attention as they did a decade ago. That didn't prevent me from buying a "Make IPAs Clear Again" hat. One of my good friends was with a company selling an organic additive that ensured your Hazy McMurky IPA would stay cloudy even after sitting on a shelf or forgotten in a cooler for a few weeks. That same company sold clarifying agents I have used in the past, which tells me they are hedging their bets while being prepared to serve both sides of the market.
There is no greater collection of innovative brewers in one place at the same time than CBC. Having judged with them, shared a beer (or ten) with them, and visited their breweries, they are both a vast source of information and some of the finest people I have had the pleasure to know. In one afternoon, I got to tell Charlie Papazian, Randy Mosher, Dick Cantwell, Fal Allen, John Harris, Eric Wallace, as well as Vinnie and Natalie Cilurzo I was going to be brewing commercially after all these years. Everyone offered congratulations and wished us well at Stillfire. Some asked, "what took you so long?" I told them this was the first brewery I felt at home. In time, I hope to have a few old friends come down to visit and brew with us. If they take a while to make it happen, I will get to ask them the same question.
Cheers!
Phil